SHEPHERDS DAYS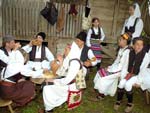 Tourist manifestation "Shepherds Days" takes place every year, in the first part of July, on the holly day of Petrovdan.
The manifestation was originally intended to gather the farmers from the immediate surrounding areas. Since 1980, it has become more important than that, so that today it primarily serves to promote our villages and tradition. The manifestation includes competitions of Serbian folklore associations, national songs and dances individual performers, various exhibitions of homemade products, the most beautiful shepherdess competition, agricultural equipment exhibition, competition in national dishes of the Kosjerski region, appearances of well known show business figures, as well as sports and recreational activities.
INTERNATIONAL ART CAMP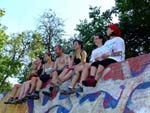 International Art Camp is a cultural manifestation which takes place every summer in Kosjeric, organized by citizens association K-Town Group. The Camp consists of four workshops with about 30 young volunteers from all over the world. The Camp includes a workshop for children wherein children can present their abilities.
A significant segment is the interaction between the participants and the locals, with workshops founded on different artistic expressions, such as music, wall painting, creative writing, children's theatre, and volunteer summer camp scenes; the 4 of 28 camps in Serbia and about 3000 in the whole world.
FAIRS CALENDAR
08. March, Novi vašar – Kosjerić
14. May, Jeremijevdan – Seča Reka
28. June, Vidovdan – Kosjerić
07. July, Ivandan – Ivanovića brdo
12. July, Petrovdan – Seča Reka
13. July, Pavlovdan – brdo Grad
19. August, Preobraženje – Kosjerić
28. August, Velika Gospojina – Kosjerić
29. August, Ubrus – Ražana
19. Octoberr, Tomindan – Kosjerić
14. Novemberr, Vrači – Kosjerić
Activities
COLLECTING OF REMEDICAL HERBS AND FOREST FRUITS
The entire area of Mionica village is characterized by a wealth of remedial herbs growing in an unpolluted surroundings; mint, cantarion, yarrow, chamomile, etc. It is worth mentioning that there are many forest fruits in this area, of which wild strawberries, blueberries, red berries, blackberries, are the most frequent ones. The region is also rich with mushrooms, and the locations where they can be picked, and the types picked in a certain period are well known to this household.
HONEY
As previously mentioned, the Pantovic family has been traditionally engaged in beekeeping for almost 100 years. Hence, every year, from 10th until 15th June, depending on weather conditions, guests of Milogosce household can attend the traditional honey collecting. Location of the colony allows the bees to have a rich meadow, pine and acacia bee pasture, thus providing a completely natural, high quality product. The product made in such way presents a real gift of nature.
HIKING
Sojourn in this untouched nature will be ideal for walks, recreation, sport activities, and swimming in the Mionica river. For hiking and walks there are well marked mountain paths which will take you to Divcibare, and Subjel, wherefrom you will enjoy an unforgettable regional panoramic view. While the area is ideal for biking fans, during winter season, skiing and sledging are inevitable.
HUNTING AND FISHING
Below the hill of Subjel, the Mionica river springs up. It is a typical mountain river; fast, full of smaller rapids with its flow curving through the hilly area. Most frequent fish in the waters of the Mionica river are chub, and gudgeon, so that those who like fishing will enjoy their favorite activities. Within the Srbija Sume estate, not far from the village, there is a hunting resort Maljen-Bukovi, full of doe, wild boar, and rabbit. Local hunter associations with experience over the past decades, will be available for any further information related to hunting.
EXCURSIONS
By agreement with the guests, it is possible to organize excursions to nearby places or to visit local historical monuments, or places that guests desire to see. Apart from the already mentioned Divčibare mountains and hills Subjel, you can visit the church in the vicinity.