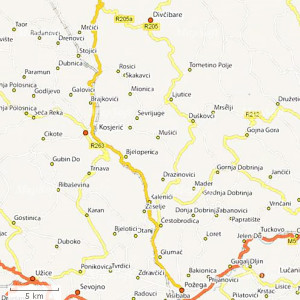 To the village Mionica you can come in several ways. On the map below you can see the surrounding villages, which includes roads around Kosjeric the mountain resort Divčibare.
We highlight a few examples with directions for easy reference.
Belgrade – Milogosce (Mionica)
Belgrade, Lajkovac (E763) - Turn right at the City of Valjevo near place Celije.
Lajkovac, Valjevo, Kaona, Razana (R21) – Near Valjevo take detour toward Kosjeric. Turn of the road on left after Razana to Rosici.
Ražana, Rosici, Skakavci, Mionica, Milogosce – Follow the local without turning of.
GPS coordinates of village are 44.03267 i 19.97403.
WE WISH YOU A SAFE AND PLEASANT JOURNEY!